Legendary Bear Buzzcut Network Coach Talks About Game-Changing Strategies in the Data Center
If only networks had coaches. They would know exactly what an under- performing data center needs to win. Fortunately, thereís Bear Buzzcut, a rock-solid figment of our imagination. We interviewed the legendary network coach. Hereís what he told us in Part 1 of this first-ever media event:
OnX: Good afternoon, Bear. Thank you for taking the time to talk to us. Whatís going on in the data center? Why are so many teams losing their footing?
BB: Simple. The game has changed. Big time. The teams falling behind so disastrously arenít even on the same playing field anymore.
OnX: What do you mean?
BB: Just look at what they are up against. Start with the terrible confinement of legacy networks. Old networks simply arenít able to meet the demands of todayís environments. Mobile devices. Video. Cloud services. Bandwidth requirements are overwhelming three-tiered architectures. Imagine if all the fans in a stadium poured onto the field at once. Thatís what it feels like. Thousands of campus network administrators are losing their minds. Itís tragic and unnecessary.
OnX: What can be done?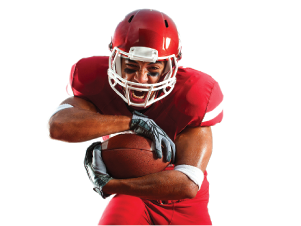 BB: Three things. Speed. Agility. Talent. It can be accomplished in three words: Brocade. HyperEdge. Architecture. Brocade offers a single high-performance, low-cost solution for data center teams who feel like they are sitting on the sidelines. HyperEdge Architecture is like recruiting Preston Manning and Aaron Rogers and giving everyone else on the team a bucket of Red Bull.
OnX: How can you have both high performance and low cost?
BB: A Brocade solution costs 30-50% over the most common networking architectures on the market today. I kid you not. And it provides insane speeds Ė from two gigs to 20 along fibre channels. Plus, it provides a simplified architecture that collapses all the sluggish layers of legacy. Installing Brocade is like replacing an offensive line of forty year olds with the New England Patriots. Plus, maintenance costs are far lower. And thereís no rip and replace.
OnX: Sounds too good to be true.
BB: Iím just getting warmed up. The GUI is almost 95% the same as other vendor GUIís. So thereís no learning-curve trauma. No playbook rewrite. Thereís also no hard-to-swallow support contract that bleeds you for years.
OnX: Right, Iíve heard that. Those support contracts can be scary. By the way, why us? Why OnX?
BB: You guys know the game. Converged infrastructure excellence. Virtualization virtuosity. Business ROI delivered in spades. Years of experience. Lots of happy customers. The list goes on. If networking was football, youíd be Madden.
OnX: Well thank you, Bear. Thatís very flattering.
BB: Donít let it go to your head.
Bear Buzzcut might be fantasy. The solution isnít. To hear how OnX can help make your campus network far simpler, far faster, and far more agile at a far lower cost with Brocade Campus Networking Access Layer, allow us to tell you more. Your financial people will thank you almost as much as your users.

Get in touch now!